Top Five Restaurants in San Diego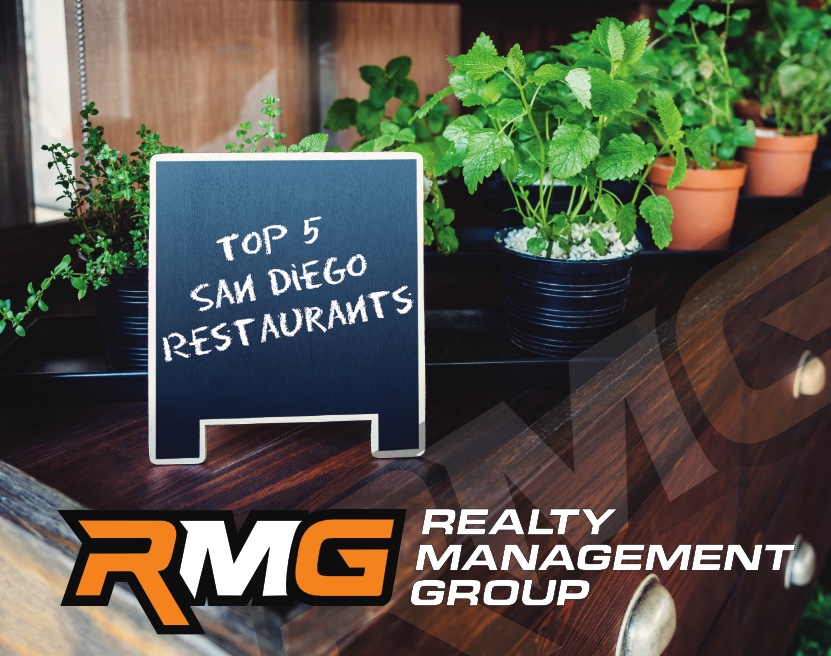 The restaurant scene in San Diego is like no other city in Southern California. Here, in America's Finest City, you can find any cuisine and food style you're looking for, and the good news is that you don't have to look very far to find the top-rated restaurants. But we know it's not so easy to do a lot of research on why you should and shouldn't go to a particular place, so we put together this quick rundown of the top five restaurants in San Diego you can't pass by.

1 - Eddie V's Prime Seafood

Starting out, we'll go over a place that's arguably the best fine dining place in the city: Eddie V's Prime Seafood. Usually, restaurants in San Diego tend to cater to a family-friendly atmosphere, but Eddie V's Prime Seafood offers something with a little more elegance and a much broader menu too. It's essentially an upscale steakhouse that serves outstanding seafood, yet that's not the only entertainment available because there's also a cocktail lounge with live jazz music.

Not only that, but you can also enjoy outdoor seating, and if you prefer to eat at home, the restaurant also provides a curbside pickup service. As you might expect, they also follow COVID-19 health and safety protocols to the letter.

Location: 783 W. Harbor Drive suite 158 (inside of The Headquarters at Seaport)
Hours: Opens from 4 p.m. to 10 p.m. every day of the week
Menu highlights: Signature Steak Tartare, South African Lobster, and Crab Fried Rice with Mushrooms and Scallops

2 - Swagyu Chop Shop & Burger

Now, let's add something more down-to-earth if upscale dining isn't on the menu tonight: Swagyu Chop Shop & Burger. Located on Pacific Beach, this restaurant is a relative newcomer to the San Diego scene, and it's quickly become one of the unique places you can find.

How many restaurants in San Diego do you know that publish how-to videos on YouTube so you can prepare the same dishes they sell at the restaurant? That's the kind of business that Chef Steve Brown operates! It's more than a burger place, and once you step inside to order, it's an experience you usually don't see in these types of businesses: one part butcher shop, one part fantastic hamburger restaurant located close to one of the most popular beaches in the state.

Location: 966 Felspar Street
Hours: Opens Wednesday to Sunday from 11 a.m. to 9 p.m.
Menu highlights: Japanese Wagyu Beef Jerky and fresh-cut, dry-aged meats

3 - Cafe Sevilla of San Diego

Some restaurants in San Diego have unique interior design features to add a dash of ambiance to an already great dining experience. But Cafe Sevilla of San Diego is absolutely one of the most gorgeous dining floors you'll ever see. The concept's theme is Spanish cuisine, so the atmosphere matches the menu perfectly.

Even better, Cafe Sevilla hosts live music events, which you wouldn't expect at a place this size, yet that's what makes eating here such a blast. There's live music on the patio during dinner hours, and afterward, the entertainment moves inside and goes all the way until 12:30 in the morning.

Location: 535 5th Avenue (in the Gaslamp District downtown)
Hours: Opens Monday to Friday from 4:30 p.m. to 1:30 a.m.; however, weekend hours are different, and the restaurant opens at 3 p.m. on Saturday and 11 a.m. on Sunday.
Menu highlights: Classic Sangria Royal, Ceviche Trio, and Waffle Breakfast Meat Paella

4 - Buon Appetito Restaurant

If Spanish cuisine doesn't whet your appetite tonight, how about Italian food? Without a doubt, there's no shortage of Italian restaurants in Little Italy, but Buon Appetito restaurant stands apart. For starters, it's a much more down-to-earth and intimate atmosphere than the more upscale places near downtown.

Not only does this table restaurant offer outdoor seating, but it has an excellent reputation for outstanding service, which is a premium these days. Price-wise, the menu hits the spot and has something for everyone, even those who demand authentic Italian food with an old-world flair.

Location: 1609 India Street
Hours: Opens every day of the week from 12 p.m. to 9:30 p.m. with extended hours on Saturday and Sunday until 10:30 p.m.
Menu highlights: Calamari D'orati, Risotto Alla Piemontese, and Ossobuco Di Maiale

5 - Herb & Wood

The last restaurant on our list is a switch up from the usual cuisine you find around town: Mediterranean food. Suppose you've never tried the most popular Mediterranean dishes. In that case, you pretty much have to be in the mood for something unique and different because this style of cuisine uses ingredients and preparations you usually don't come across in American-style cooking. But of course, that's what makes eating here so great!

Whenever you're in San Diego, it's okay to branch out from your comfort zone a bit, especially when you're near downtown and want to try something you can't usually find in smaller cities. Atmosphere-wise, this restaurant features wood-fired entrees in classic cocktails in a rustic yet upscale environment.

Location: 2210 Kettner Boulevard
Hours: Opens 5 p.m. to 9 p.m. with special hours for Sunday brunch from 10 a.m. to 2 p.m.
Menu highlights: Baba Ganoush, Moroccan Coffee-rubbed Venison, and

No matter what, you can't go wrong with any of these beautiful places to grab a bite to eat while you're in San Diego.